Rod Rosenstein Wanted To Secretly Record Conversations With President Trump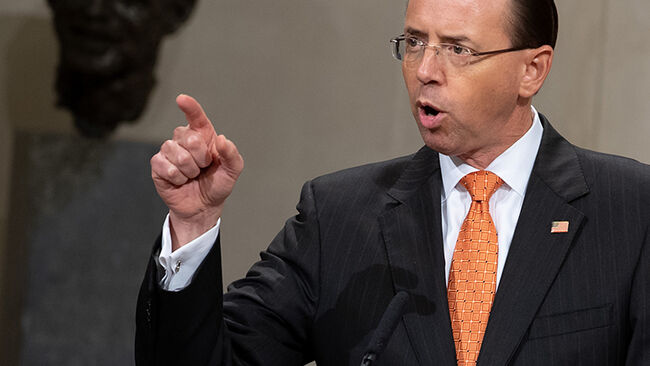 A new report from the New York Times claims that Deputy Attorney General Rod Rosenstein suggested that officials wear a wire to secretly record conversations with President Donald Trump and discussed plans to convince members of his cabinet to invoke the 25th Amendment to remove Trump from office.
After Trump fire FBI Director James Comey, Rosenstein became angry when a memo he wrote that was critical of the FBI director was cited as one of the reasons that Comey lost his job. While Trump worked to find a new FBI director Rosenstein started having conversations with other officials in the FBI and suggested that they should wear a "wire" so they could secretly record their conversations with Trump at the White House.
Mr. Rosenstein then raised the idea of wearing a recording device or "wire," as he put it, to secretly tape the president when he visited the White House. One participant asked whether Mr. Rosenstein was serious, and he replied animatedly that he was.

If not him, then Mr. McCabe or other F.B.I. officials interviewing with Mr. Trump for the job could perhaps wear a wire or otherwise record the president, Mr. Rosenstein offered. White House officials never checked his phone when he arrived for meetings there, Mr. Rosenstein added, implying it would be easy to secretly record Mr. Trump.
It does not appear that anybody in the FBI followed through on Rosenstein's suggestion to secretly tape conversations with Trump and his plan to convince cabinet members to invoke the 25th Amendment did not go anywhere.
Rosenstein issued a statement denying the allegations in the report.
"The New York Times's story is inaccurate and factually incorrect," he said in a statement. "I will not further comment on a story based on anonymous sources who are obviously biased against the department and are advancing their own personal agenda. But let me be clear about this: Based on my personal dealings with the president, there is no basis to invoke the 25th Amendment."
Photo: Getty Images