Rod Rosenstein Will Meet With Trump Following Reports That He Resigned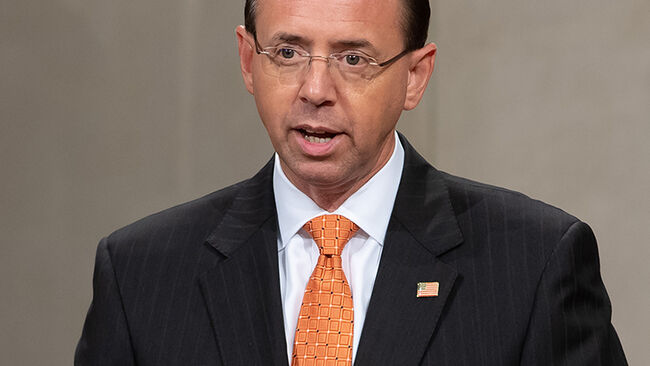 UPDATE: The White House is addressing recent reports that Deputy Attorney General Rod Rosenstein has resigned or is about to be fired. Rosenstein will meet with President Donald Trump on Thursday.
"At the request of Deputy Attorney General Rod Rosenstein, he and President Trump had an extended conversation to discuss the recent news stories," White House press secretary Sarah Huckabee Sanders said in a statement. "Because the President is at the United Nations General Assembly and has a full schedule with leaders from around the world, they will meet on Thursday when the President returns to Washington, D.C."
Original story:
Deputy Attorney General Rod Rosenstein has reportedly resigned. Axios reports that Rosenstein tendered his resignation during a conversation with White House Chief of Staff John Kelly. A source told the news outlet that Rosenstein was "expecting to be fired" and that he wanted to step down before President Donald Trump gave him the ax.
According to CNBC, Rosenstein has not resigned and is currently on his way to the White House. NBC News' Pete Williams reports that Rosenstein will not step down on his own and will only leave if he is fired.
The Deputy Attorney General has been under fire following a New York Times report that he offered to wear a wire in meetings with President Trump and discussed using the 25th Amendment to oust him. Rosenstein denied the report, while other sources in the room claimed that he was being sarcastic.
Photo: Getty Images